Prohibited Items:
In order to keep possibly dangerous items outside the flight line, ALL bags will be inspected as you come through flight line entry point and all individuals are subject to search. To keep delays to a minimum, remember that the following items are not permitted on the flight line and may be confiscated:
Ice chests or coolers. While ice chests/coolers are NOT permitted an exception will be made for medically necessary items after proper inspection at a specified lane at each gate.
Large bags such as convention bags, duffle bags, and briefcases. (camera bags will be searched). We recommend the clear style bags to speed up the inspection process.
Large backpacks (camera bags will be searched). We recommend the clear style school backpacks to speed up the inspection process.
Gang related clothing or attire, colors, patches or anything which depicts or supports hatred, racism, prejudice,drug use, or violence or extremist views.
All weapons, regardless of permit. This includes, but is not limited to: firearms, knives (regardless of design or purpose such as pocket knives and multi-tools), canes and walking sticks (except for handicap use), Mace, OC, CS or any chemical weapon, batons, martial arts gear, or any other items that the security force deems dangerous. Any confiscated items will not be returned.
Alcoholic beverages.
Drugs, narcotics, marijuana or any associated paraphernalia.
Pets (other than service animals).
Glass bottles, jars or containers.
Flammable liquids or substances .
Bicycles, scooters, skateboards, roller skates, in-lines, hide-away, roller blades, and hover boards.
No outside food and beverage. (A bottle of water is permitted)
Tents, Portable or temporary awnings, cabanas, beach umbrellas.
Kites.
Laser pointer or other laser devices.
Drones or any remote-controlled aircraft, vehicles, or toys.
No fireworks or other forms of explosives.
Authorized Items
All authorized items will be inspected prior to entering the flight line. It is recommended that spectators minimize the number and size of authorized items to reduce the time required for inspection prior to access into the flight line area. The following items are permitted:
Cell phones, tablets and FRS transceivers (may be asked to turn off / on).
Handheld portable televisions, radios and scanners.
Small fanny packs and purses will be searched upon entry.
Personal umbrellas or sunshades.
Cameras and camcorders.
Camera Bags will be searched upon entry.
Folding chairs and lawn chairs (chairs in bags subject to search.
Certified service dogs (for example vision or mobility assistance).
Wheelchairs.
Baby bags and strollers, if attending with an infant or small child (Strollers are not permitted in the grandstand area. Adjacent stroller parking is available).
Smoking (cigarettes and e-cigarettes)
Smoking is not permitted anywhere on the flight line or in the vicinity of aircraft, vendor tents or chalets.
Other Notes:
Unattended bags and packages will be removed from the premises.
Neither strollers nor wheelchairs will be available for rent at the Festival of Flight.
Strongly recommend sun protection, including hat, long-sleeved shirts and long pants and sunscreen are recommended.
Water will be available, for purchase, throughout the event area.
Wear comfortable footwear; the flight line is paved and you may walk long distances.
All vendor vehicles will be subject to search.
And Finally………
Please keep in mind that your safety is our primary concern. Remember the following important safety tips:
Respect - Uniformed security personnel are there to help. Follow all instructions from uniformed security personnel.
OUCH! - Very few things on our flight line are soft to the touch; most things are made of metal and have lots of edges on them. Keep your eyes focused in the direction you're walking and be aware of low-hanging (and flying!) aircraft components.
HELP! - Medical personnel are on call to render assistance to anyone that requires it. Notify any uniformed security person or air show worker if you or any member of your group requires medical attention.
Pay Attention - Watch where you are walking. Trip hazards are everywhere. Stay aware of
your surroundings and watch for moving vehicles.
Drink Water - Stay hydrated. Water will be available, for purchase, throughout the event area. Refreshments are normally available but you may bring a bottle of water. If you are drinking alcohol, please drink in moderation as alcohol can cause dehydration. Do not rely on sugary drinks for hydration.
Plan For Noise - Jets can make a lot of noise so we strongly suggest you bring earplugs or ear protection, especially for the little ones.
Plan Ahead - Do find out where you can get medical aid or seek assistance if you need it. If you are in a group and you get separated, where will you meet? If you have children with you make sure they know how to get help if they get lost. Please stop by the information booth if you have children so we can give them a free "lost parent" wrist band.
Help Us - If you see something odd or out of the ordinary, say something! Alert any of our uniformed personnel or Law Enforcement Officers. Together we can make this event safe and fun for everyone.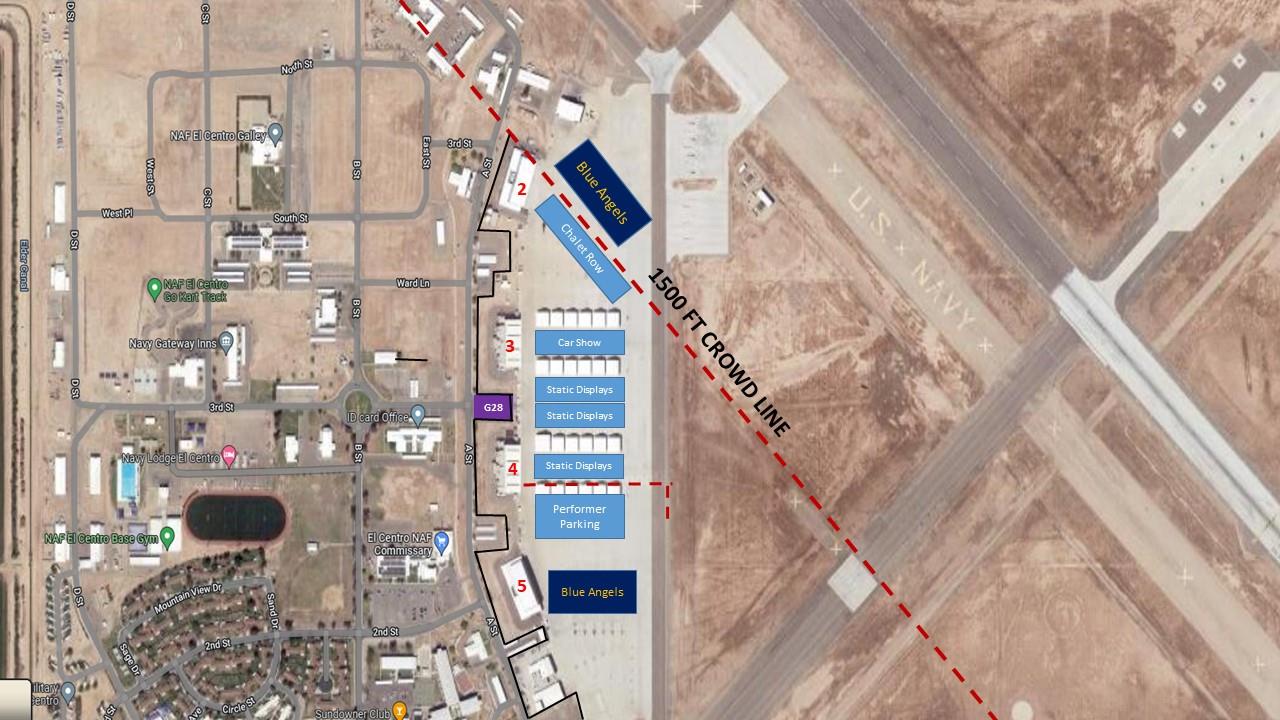 The conduct of the 2023 NAF El Centro Festival of Flight will strictly adhere to the latest federal, state, and county health protection guidance and aims to provide the safest environment possible to our welcome community members. By participating in this voluntary event, you waive the right to any claim against the federal government, contractors, and volunteers aboard NAF El Centro to include personal liability, claim, suit, action, loss, or damage that may result from your attendance.